Volunteer
Do you want to give back? Do you want to make a difference? Are you looking for a one-time opportunity? Maybe you want a steady gig? We can help you with all of that!
We have more than 400 men and women who every day add to the amazing culture of empowering residents to live enriching lives.
Volunteers help with…
Programs                                           
One-on-one visit                             
Events
Upkeep/gardening                        
Internships                                       
Corporate giving projects
School/scout projects                  
Pet visits
…and so much more!
Volunteering makes a huge difference in the lives of the older adults we serve, but really as our volunteers tell it, they reap the benefits of the experience just as much as the residents and clients!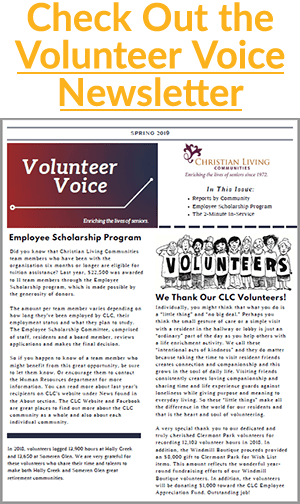 "Simply stated… volunteering centers me.  With the hectic nature of my job I find myself looking forward to my time spent at Someren Glen."
-Dr. Amy Dore, DHA, Associate Professor at Metropolitan State University, Denver
"Even the simplest forms of assistance that you can afford the residents are always so appreciated and warmly acknowledged.  Those types of encounters will always lighten up your day."
-Craig Davis, Long-time Clermont Park volunteer
Our volunteer programs are based in our owned communities in the Denver metro area, click on one of the tiles below to learn more.
Volunteers of all ages make an impact on the lives of older adults.
Anyone with a willing heart can make a difference in our communities. You don't need to have any special qualifications. And it's a great way to connect with the generation who shaped our nation!
Did You Know?
Volunteers founded CLC, they organized, fundraised, they even lent a hand to building our first nursing home and cleaned it before we opened our doors in 1972 – we wouldn't even BE without the wonderful commitment of volunteers!